The High Line by Jesse Chehak
Posted on Sat December 10, 2016.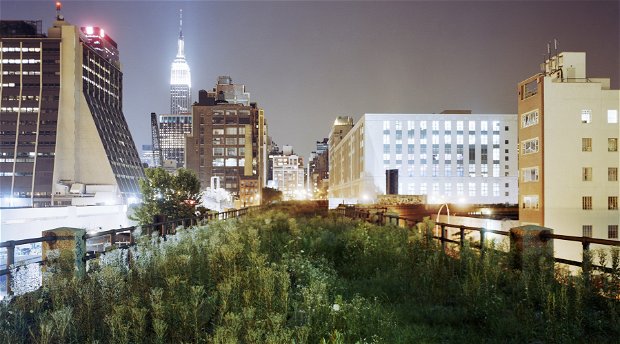 I would say that Jesse Chehak's image of the High Line park under construction in New York City is the most optimistic. The High Line is a wonderful new part of the city that was partly funded by major donations from wealthy patrons. There are of course many examples of amazing philanthropy going on right now, from the Bill and Melinda Gates Foundation to Leonard Lauder. These kinds of "philanthro-capitalists" are a major, and welcome, feature of the new wealthy. [Jon Feinstein]
Above 34th Street Eastward from The High Line by Jesse Chehak (USA) 2004
The High Line is a conservation project to restore an old elevated rail line and turn it into a park. The middle section of the High Line is currently under construction, but for it to become a public park all the way up to the rail yards in Hell's Kitchen; the city must acquire the rest of it from the railroad. What started in the year 2000 as a fanciful project by passionate observers, with no urban planning experience, to save an abandoned New York rail line from demolition, has found itself as the city's number one tourist attraction – and an inspiration to councils and cities around the world. 
Little is careful to point out: "I don't think that all wealthy people are villains, at all. This is why I included the image of the Highline Park in New York City, which was built with huge donations from wealthy individuals. It's just a wonderful addition to the city." [Sarah Jacobs]
Some of the photographs are more ambiguous, such as Jesse Chehak's image of the High Line Park, built partially thanks to the contributions of wealthy New York patrons, which inadvertently spurred real estate development and brought tremendous value spike to the neighbourhood that forced many to leave. [Myles Little]
(b. 1979, US) Chehak studied photography under Joel Sternfeld and Frank Gohlke. His encounters with the physical and social landscape of the American West have been exhibited widely. He also executes assignment work for clients ranging from Ogilvy & Mather to Newsweek, collaborating with creative's worldwide. Jesse Chehak's photographic practice is underpinned by collaborations with NGOs that he supports, and the development of his long-term independent projects. 
The photograph above is one of the forty thought provoking images on show by thirty three of the world's leading photographers.
1%: Privilege in a Time of Global Inequality
Chavonnes Battery Museum Clock Tower, V&A
Opening Hours:
Mon - Wed: 9 am to 4 pm
Thu to Sun: 9 am to 6 pm
Tickets available at the door and WEBTICKETS
FREE WIFI