Museum Tour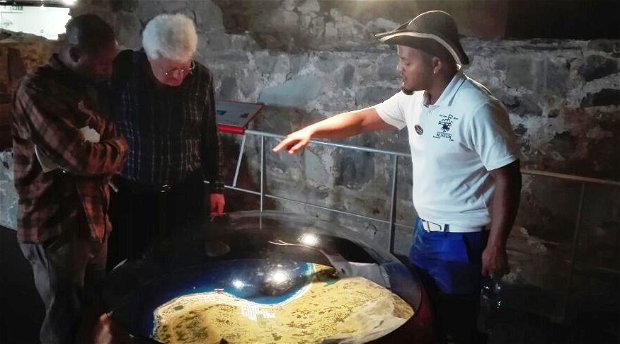 We invite you to step below sea level to the sand of the original shoreline that has been hidden since 1724 among the Archaeology ruins of the Chavonnes Battery, a VOC Fort that was ripped apart and buried in 1860 and since 2008 a Visitor Attraction about the history of Cape Town.
The fascinating narrative of the Social and Military History at the "Cape of Storms / Good Hope" and the authentic setting creates a unique opportunity to join guides from local communities dressed in period costume who will enlighten and delight with authentic content, stories and anecdotes.
Your Guided Tour commences with the battle for the High Seas and the treacherous journey to the spice and silks of the East for the soldiers, sailors, slaves and adventurers and the strategic importance of the "Cape of Storms / Good Hope".
Of rivalry between Spanish, Portuguese, Dutch, French, English, Swedes and Danes that required massive fire power and huge cannons.
Meander between and over the walls made from Table Mountain rock and cement made by burning sea-shells, still standing 300 years later.
For images of what you will see,.. CLICK HERE