1%: Privilege in a Time of Global Inequality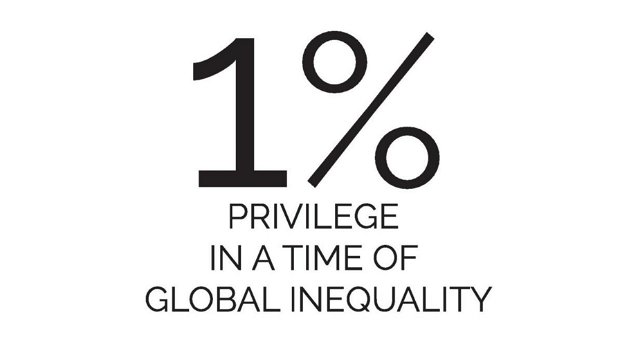 Coming to South Africa for the first time, in its 55th location world-wide, the internationally acclaimed 1%: Privilege in a Time of Global Inequality photographic exhibition will be showcased at the Chavonnes Battery Museum, Clock Tower, V&A Waterfront in Cape Town, from 3rd November 2016 until February 2017.
"This exhibition brings 40 images by the world's leading photographers to our shores. It affords the opportunity to highlight this topic as South Africa remains one of the most unequal societies in the world," - says Heidi Erdmann, Cape Town exhibition curator.
"In curating 1%: Privilege in a Time of Global Inequality, I have tried to gather images that examine wealth globally and in many different ways. I selected a small number of polished, well-crafted, medium-format photographs by some of today's best photographers. I wanted to borrow the language of privilege and use it to observe and critique privilege."
"Some of the images map out points in the world of affluence, such as education, leisure and healthcare (while avoiding clichés like fur coats and private jets). Other images are positioned outside the world of the 1%, looking back in." 

"The idea behind the project is to shine a light on an incredibly powerful, but often invisible or misunderstood, segment of the population"  - Myles Little
Myles Little, Senior Photo Editor at TIME spent almost three years curating over 2 000 photographs to reach the final 50 presented in a book released this year. Edited by Myles, it includes text by ­Joseph Stiglitz, PhD, Nobel Prize­-winning economist, and ­Geoff Dyer, inequality expert and National Book Critics Circle Award­-winning writer.

The Huffington Post calls Irish-born Myles "a rising leader and visionary in the industry". He studied photography at the Savannah College of Art and Design, and has gone on to produce award-winning covers and features with some of the best photographers in the world. Myles has lectured on photography internationally and curated two photography exhibits in New York. 1% is his third curated exhibition.
Location:
Chavonnes Battery Museum, Clock Tower, V&A Waterfront
Opening hours:
Monday – Wednesday 09:00-16:00 Thursday - Sunday 9:00 – 18:00
Exhibition dates:
3rd November 2016 – February 2017
Costs:
R70 adults, R50 seniors/students/Red Bus ticket-holders,
R30 children (6-16 yrs) under 6 free
Tickets are available at the door and from Webtickets.co.za
Contact details:
Tel: 021 416 6230 Email: info@chavonnesbattery.co.za
A selection of the photographs with artist statement, comment by Myles Little and artists biography: